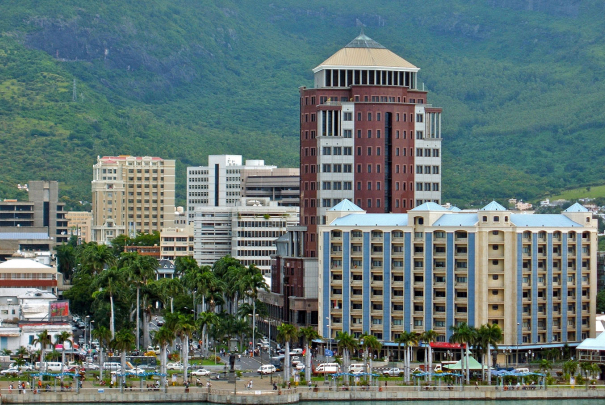 Mauritius is a middle-income country with a diversified economy whereby the main pillars of the economy are the industrial, financial and tourism sectors.
Mauritius in figures
Mauritius in Figures (2016)
 
 
Capital
 
 
Population
1,263,820 consisting of Indo-Mauritian, Creole, Sino-Mauritian and Franco-Mauritian people
 
Workforce
607 900
Main Language
English (official language), French and Mauritian Creole
Time Zone
GMT +4 hours
GDP
MUR 386 billion
Real GDP Growth rate
3,80%
GDP/Capita
MUR 343,911
Agriculture, Forestry and Fishing
3,50%
Manufacturing
14,10%
Construction
4,20%
Wholesale and Retail trade
11,90%
Real Estate Activities
5,90%
Accommodation and Food Service activities
6,80%
Financial and Insurance activities
12,10%
Transport and Storage
6,20%
Information and Communication
4,20%
Education, Health and Social Work
4,90%
Public Administration and Defence
6,50%
Others
19,70%
Merchandise Exports 

UK (12.0%), France (11.5%), US (11.4%), South Africa (8.2%), Madagascar (7.3%), Italy (6.8%)

- Main Partners
Merchandise Imports 

China (17.7%), India (16.5%), France (7.8%), South Africa (7.5%)

- Main Partners
Source: Statistics Mauritius
 
 
There has also been rapid transformation in other sectors of activity such as the blue economy, information and communications technology, hospitality, and property development. Those developments have secured the island's position as a thriving financial hub and the ideal gateway for foreign investment into Africa.
Mauritius is a reference in the African region and is ranked first for:

* Ease of Doing Business, according to the Doing Business Report 2017;
* Ease of Paying Taxes, according to PwC Ease of Paying Taxes 2017;
* Global Competitiveness Index, according to the Global Competitiveness Report 2016-2017; and
* Ibrahim Index of African Governance, by Mo Ibrahim Foundation.
On the regional front, Mauritius is a member of the Common Market for Eastern and Southern Africa (COMESA) and the Southern African Development Community (SADC). Under the Organisation for Economic Co-operation and Development (OECD) model, Mauritius has signed 43 tax treaties with several countries. The island remains engaged in responding to changes on the international front and complying with best practices.
In the global context, Mauritius continues to show its strong commitment to adhere to international initiatives that promote a healthier business and tax environment. Mauritius is among the first to have implemented agreements for the exchange of information under the US Foreign Account Tax Compliance Act (FATCA) and the EU's Common Reporting Standards (CRS). Last but not the least, Mauritius is an active participant of the OECD/G20 Inclusive Framework on Base Erosion and Profit Shifting (BEPS).